In the era of making things more accessible, the internet has proved itself as the boon to it. Making something easier connects with the matter of saving time. Also, people do not need to take out extra time from daily routines to fulfil their particular tasks.
Today, we will discuss one of the relevant subjects, which you all need to know, and to make you aware is my duty. Well, the issue is the State Bank of India personal Banking registration.
Now, if you are a State bank of India customer, then this topic is very much essential for you to that how you can register for SBI personal banking. Let me inform you that, SBI personal banking is the net banking itself, which you can do on your own, without making extra efforts in your daily routine. So, what are you waiting for? Let's dive into it without taking a further time.
The benefits of personal banking are many, two of them I have mentioned above, else you can feel while using. The best part is, for this facility you need not visit the bank anymore and you can do all the process by just sitting at home. Here are the steps for how you can do it.
Also Read: SBI Net Banking Guide.
How to register SBI Personal Banking online 2020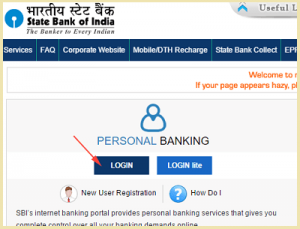 Firstly, visit the official website of SBI, i.e., onlinesbi.com.
Secondly, click on the 'New User Registration'. Here, you will get a pop-up on your screen which is to get the assurance, that you have not already obtained the internet banking kit from the bank's branch itself. Click on the OK button.
Now, you will get a new tab on your screen. As you are registering for the first time, select the 'New User Registration' and click on Next.
Now, you will get a new page on your screen, where you need to enter your details. The things which you need to mention are your account number, a five-digit branch code, CIF number, registered mobile number, captcha code and facility required. There is nothing to get panic for the details, as you can get them all on the front page of passbook.
Now, click on the 'Submit' after assuring that all the details you have mentioned are correct.
After the successful submission, you will get a one-time password on your mobile phone. Now, enter the OTP and click on the confirm button.
Now, select the option 'I have my ATM card' and click on the 'Submit' button. Here, you need to enter all your card details and captcha code.
After the successful submission, now, you will get the temporary username on your screen, and you will be asked to create your login credentials. Before submission, ensure once that you have mentioned correct username and password.
After the successful entering of the login password, you will get a call after an hour, which will be an advisory call. Here, it would help if you created a new username according to your choice. Now, select the checkbox for the exception of internet banking terms and conditions. Click on 'Submit'.
In the next step, you need to create a new login and profile password. Remember, these passwords would be different.
Now, enter you're your date of birth, a country in which you are born, place and your contact number as registered in the bank records.
Click on submit button, after the successful submission of all the details you can use the facility of internet banking.
 Hope, this might have contributed something new to your knowledge of personal banking!