Kodi, the popular open-source software to stream movies and tv shows is used worldwide and many people use it by installing the different add-ons. The add-ons provide you the different content like movies, tv shows, cartoons, web series, and sports channels to watch on Kodi.
Exodus has remained a very popular add-on and many people have been using it but the worst part is that it is discontinued and Kodi users are forced to look for its alternatives now.
There are many alternatives to Exodus. If you want to continue watching your favorite content over Kodi then pick any other add-on and just install it and start watching the content on it. We have brought you a list of add-ons that you can have a look at and install any one of it and start watching your favorite movie, tv-show or any other content.
Let us now check out these Kodi Exodus Alternatives and you can then check out their installation procedures.
Exodus Redux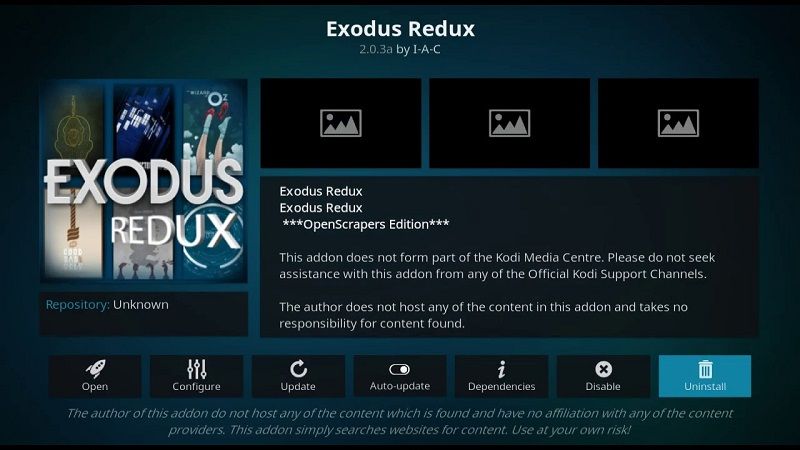 This is a relatively new add-on and offers numerous movies, tv shows, and other content. The logo of this add-on is the same as that of the Exodus add-on. But unlike the original Exodus add-on, this new one has regular updates and is maintained well by the developers. There are high-quality links of the content so users enjoy watching different content over it a lot.
It is fast, reliable and as there is so much good content, users don't have to return disappointed, they always get the content that they are looking for.
Incursion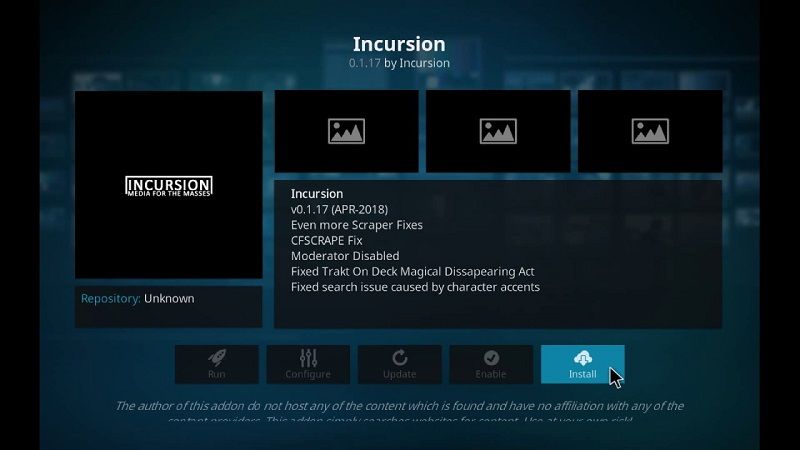 Another very good add-on that is widely popular these days is this one: Incursion. It resembles Exodus in many aspects so people feel as if they are using Exodus only. The user interface of this add-on is very simple and easy to navigate so people find it very comfortable using it.
The main menu is very simple so users are comfortable finding the various content from it; there is clear information provided for the various categories and sub-categories. There are filters provided too, users can filter out the choices as per their needs and get their desired content.
Placenta
The placenta is a very good add-on that is created by an active member of the Kodi community. It has numerous good content that includes movies, tv shows, cartoons, documentaries, fitness videos, and a lot more things. There are very few add-ons that will provide you cartoons so if you are a cartoon lover then this add-on is for you.
Navigation is simple so you will easily find what you are looking for. Also, all the links are working so you won't be ever disappointed getting a link that is not working. You have to just install the add-on and start watching your favorite content on it.
UK Turk Playlists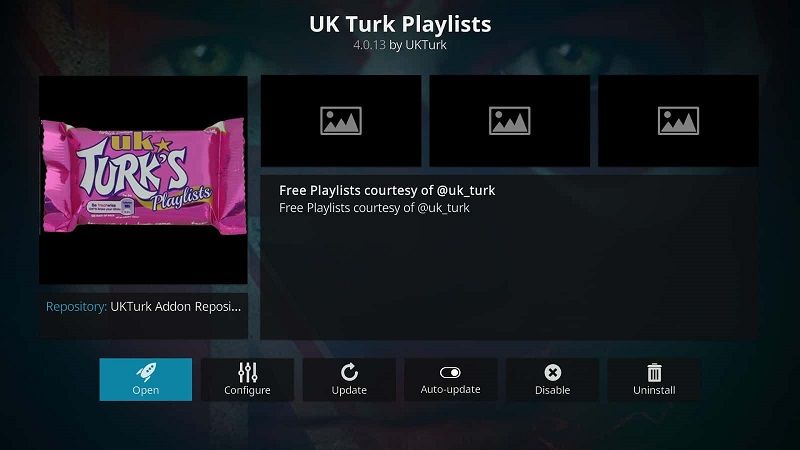 The specialty of this add-on is that it provides content in Turkish too. There are some movies and tv channels featured in the Turkish language. Apart from that, content in English is always available. Movies, tv shows, concerts, sports, and a lot more different content are available to watch on it.
You will get to watch content in really good quality and subtitles are also available for every content. It is well maintained and updated by the developer community so the bugs and errors are always fixed upon regular intervals. New content is kept on added to it so you will hardly have a hard time finding what you are looking for.
Covenant
Covenant is also a very popular addon that is used by a lot of people. It got disappeared a while back but then it was brought back by a new developer. It hosts various movies and tv shows and navigation to the different content is very simple and the user finds it quite easy to use this add-on.
There is a number of good links available to watch the different content so people can get what they are looking for. The team is working with numerous content providers so users are getting their desired content without fail.
You have to just install the extension and start watching the content on it.
Movie Theatre Butter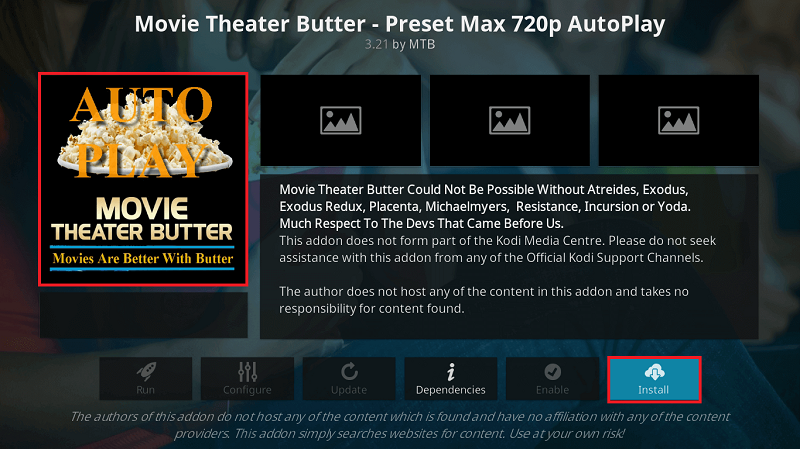 You can go for this add-on and use it as if you are using Exodus. There are movies, tv shows, web series, documentaries, and much more. If you are a movie lover, you will get the desired movie to watch on it for sure. You like tv shows and web series, then just search for it in the search bar and you will get what you are looking for.
Navigation is very easy and straightforward and users get to the desired content very quickly. The auto-play feature is its unique point as this feature was not seen in most other add-ons a few times back.
There are multiple links for the same content in this add-on so if anyone link is not working then you can always try the second, third so on… but this will be a rare case as most of the links are always working.
So, here was an overview of the Kodi exodus alternatives. Install and try anyone of them and see if it offers the content that you are looking for. If you are not satisfied with the add-on then you can try any other one as there are so many on our list. Pick anyone as all of them are great and perfect alternatives for Exodus.