In almost every industry, technology is changing how people do things. Processes have become faster and more efficient, benefiting businesses, and their customers.
Although technology has been changing how things are done in the field of education, some believe the pace is much slower compared to other industries. But Education Technology or EdTech has been rapidly improving, causing others to believe that big changes will be occurring soon.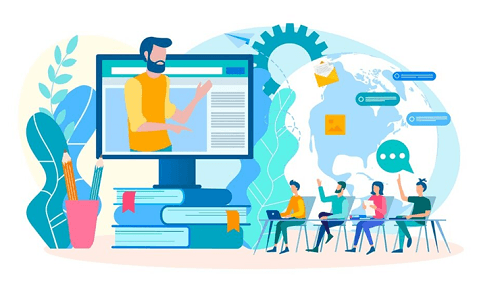 What exactly does Edtech do? It's a variety of technologies that are implemented in schools and colleges with the aim to make the education process as more effective as it can be. Some tools help with creating a very special curriculum for every student. It helps with improving grades. Speaking of which, Edtech helps also with unbiased grading. Specialists work on a program called BABEL which will be an independent assessor of essays.
Fur sure, these are great, but not common. My Homework Done team is excited to see what will happen with the education sphere when Edtech will become common over the world.
The development of new technologies is positively affecting how teachers teach and how students learn. The following are some EdTech gadgets that will soon become a staple in every classroom.
Cloud computing
A big purpose of technology is to make things accessible and efficient. This is why cloud computing is becoming a big necessity in EdTech.
In cloud computing, lots of information can be stored and retrieved without the need for extra hardware such as external hard drives or USBs.  Regardless of where a person is, the teacher or student can just access the cloud for what they need.
3D printing
In the past, hypothetical ideas were often drawn on paper with the student simply narrating how and why their idea could reshape the world.  But with 3D printing, such ideas can come to life in the classroom.
Although architectural and engineering school needs readily come to mind, 3D printing can be helpful in a number of classroom situations. Historical figures, exotic animals, and original characters can be printed out for clearer discussion and classroom fun.
Also read: Some great ideas to rock the intros of your eLearning course
Game-based learning
Even in the past, teachers have been trying to make things fun in the classroom through games and storytelling.  However, with the many technological options available, game-based learning is becoming a preferred method by teachers and students alike.
In game-based learning, students pick up key skills through repetitive tasks and learning new strategies to win the game.  The good thing is that students nowadays are already fond of technological games, so making it a regular part of the class will not be an issue.
Augmented reality (AR)
Augmented reality is receiving a lot of attention now.  In AR, digital objects are mixed into the real world.  This allows students to explore a variety of situations within the confines of the classroom.
Many teachers are already excited about the possibilities of AR.  With it, students can "perform" surgical procedures on the body or "visit" places on the other side of the world.  With equipment like Google Glass, learning options become endless.
Virtual reality
Considered a step higher than AR is virtual reality, a particularly exciting trend that many industries are looking forward to.  For EdTech, virtual reality will be able to transport students to almost any learning situation.
Currently, VR is a part of some game-based learning applications.  But in the near future, this will become a necessity in many subjects and grade levels.
Summary
Although the impact of technology has not been as big in the field of education as compared to other fields, it is expected that this will soon change.  Exciting new technologies are going to reshape how students learn in a more interactive and enjoyable way.