City Union Bank is a familiar bank to most people in India. The CUB customers can avail the bank's online services at any time. The bank helps its customers to carry out their banking activities online with their net banking services. Payment of bills, bookings, generating PINs can all be done online with the bank's internet services.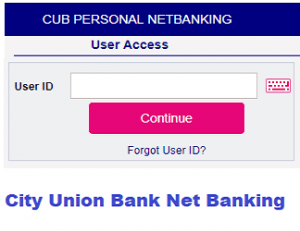 CUB NET BANKING REGISTRATION:
For online CUB net banking, go to the official CUB net-banking site. This online banking method is entirely secure and pertains to all bank customers. CUB Net Bank registration is entirely free and easy, and all the account holders need is some least balance in their account.
HOW TO REGISTER FOR CUB INTERNET BANKING?
First, register your phone number and email address with your bank.
Visit CUB official website for application and forms, click in the option "Net Banking Application Form". Fill the necessary details after downloading the form. Submit the completed form to your CUB bank branch.
You can also go to your nearest CUB bank, where you are an account holder, submit the duly filled form after getting it directly from the bank.
Your bank activates the net banking facility. The bank shall notify you of this via your email or phone numbers. You shall receive your login and transaction passwords by post from your bank.
Also read: SBI Net Banking Online.
CUB NET BANKING LOGIN:
 After registering, visit city union bank's official website.
You shall get your User Id, passwords from the bank.
 Under CUB net banking, you will see two options: Personal and Corporate.
Choose the required option. When you choose personal net banking, you are required to enter your user ID first and then your password. If you decide Corporate net banking, you should enter your corporate and user IDs to continue.
Log out from your online account immediately after completing any transactions.
CUB PASSWORD RECOVERY:
In case you forgot your password, you can click on the "Forgot Password" option in the login page, near the login form. You should enter your User ID and verify your account.
You can create a new password after following the instructions online. You shall get the OTP from the bank after entering the required information such as account number, DOB, etc. You can create the password after entering the OTP given by the bank. After creating a new password, confirm it by re-entering the password before saving the process. You can then login with your changed password.
Suppose you forget your user id; you should enter your account number and registered mobile number and click submit.
HOW TO DEACTIVATE CUB INTERNET BANKING:
If you do not want to use CUB net banking services or wish to deactivate your online banking account, all you need to do is contact your bank and request them to deactivate your account. You can also call or send an email to your branch's customer care services.
CUB internet banking is suitable for most people as they can enjoy banking in the comfort of their homes. Customers can make use of the banking facilities and features in a more convenient way online.