Canara bank is a public sector bank which is controlled and owned by the government of India. This bank was nationalized by the Indian government in 1969. The bank has its headquarters in Bangalore and has its international offices in New York, London, Hong Kong, Dubai, Moscow and Shanghai. This bank has over 1000 branches all over the world.
As per August 30 2019, Canara Bank will be the anchor bank for the Syndicate Bank. And the banks are expected to merge on April 1 2020, which will make the Canara bank the fourth largest bank of India.
In November 2017, Canara Bank launched its mobile application named Candii for UPI and other online banking services. The bank started a new feature of net banking for providing the best facilities to its customers.
Canara Bank Net Banking Registration
Net banking is an online banking service by which the users can make transactions and use other banking features by sitting at home or anywhere. By the use of Net-Banking, the users can pay bills, monitor their account activity and transfer funds as well.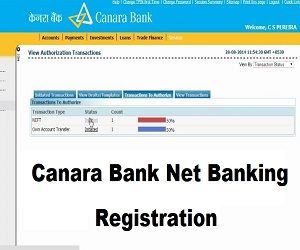 Registering for Net-Banking:
If a user wants to use the net-banking feature of Canara Bank, they need to register themselves for it. They can register or apply for net banking facilities by following these steps:
Visit the Canara Bank's official internet banking website. Visit the following link: https://www.canarabank.in/.
Then you will be redirected directly to the page that shows the "Terms and Conditions". Now click on 'I Agree' after reading them.
Then you will be redirected to the next page where you need to enter the necessary details:
Account Number
ATM and Debit Card Number
Registered Mobile Number
Customer ID
After entering these details, you need to choose the access type which you require for your Internet Banking.
Now click on "I Agree".
Also read: Axis bank net banking Guide.
Login for Net-banking
To log in, you need to get your User ID, for which you need to know your customer ID and registered mobile number. , go to the following link: https://netbanking.canarabank.in/entry/getuserid.html
Then enter the customer ID and mobile number. Then click on 'Submit'. And you are done, and your User ID is generated.
For unlocking your User ID, you need to click 'Unlock User ID', for activating your User ID click on 'Activate User ID'. And just in case you have forgotten your User ID click on 'Forgot User ID'.
The above steps show how to register for internet baking in Canara bank now to log in for the internet banking facility you need to follow these steps:
Enter the User ID.
Enter your Password.
Select the language of your preference.
Click the "Sign in" button.